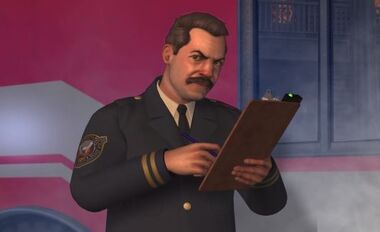 Chief McGinnis is the head of police in River Heights , the town Nancy Drew lives in. He's not exactally welcoming to her when she shows up to say she has a case, nor does he give her credit for her good deeds due to the fact that Chief McGinnis likes to take credit for himself, but even so, Nancy knows that deep down inside of him, Chief grateful to her for helping him keep the streets of River Heights safe from crime. 
Chief McGinnis makes an appearance in the Her Interactive computer game, Alibi in Ashes, where he has no choice but to arrest Nancy for arson. He does allow her to work on proving her innocence, but warns her not to let him "catch" her. He seems to be a bit of a grizzly bear, but is a good guy at his core.
Appearances
Original
Digest
The Triple Hoax
The Secret of the Old Lace
The Haunted Carousel
The Case of the Dissapearing Diamond
The Secret of Shady Glen
A Secret in Time
The Nutcracker Ballet Mystery
The Suspect in Smoke
The Case of the Twin Teddy Bears
The Secret of Candelight Inn
The Door-to-Door Deception
The Wild Cat Crime
The Case of the Captured Queen
Intrigue at the Grand Opera
The Riding Club Crime
Files
Buried Secrets
The Suspect Next Door
Something to Hide
False Impressions
Into Thin Air
Counterfiet Christmas
Ad blocker interference detected!
Wikia is a free-to-use site that makes money from advertising. We have a modified experience for viewers using ad blockers

Wikia is not accessible if you've made further modifications. Remove the custom ad blocker rule(s) and the page will load as expected.