Drew
Starring
Sarah Shahi
Release date(s)
TBA 2017
Country
United States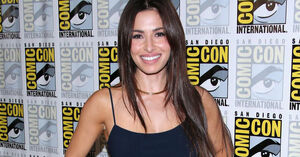 Drew is an upcoming television series based on the
Nancy Drew
book series. It is set to star actress
Sarah Shahi
.
Titled "Drew," the potential series is described as a contemporary take on the character from the iconic Nancy Drew book series. The pilot will center around a 30-something who is a more mature version of Nancy than the one in the popular novels. Nancy is now detective for the NYPD, where she investigates and solves crimes using her uncanny observational skills, all while navigating the complexities of life in a modern world.
Ad blocker interference detected!
Wikia is a free-to-use site that makes money from advertising. We have a modified experience for viewers using ad blockers

Wikia is not accessible if you've made further modifications. Remove the custom ad blocker rule(s) and the page will load as expected.