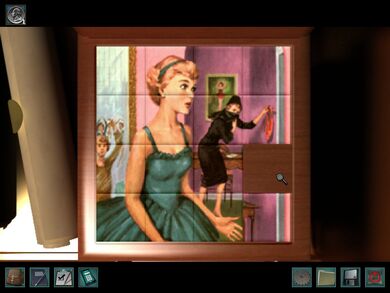 Eloise Drew is a character who appears occasionally in the popular Nancy Drew Mystery Stories series. She's the sister of Nancy Drew's father, Carson Drew, making her Nancy's paternal aunt.
Eloise works a teacher at a private school in New York City, and is mentioned to have many friends who are detectives and, whenever she can, she references Nancy to get her involved in new cases. Before asking Nancy about new cases she always asks her brother Carson his permission first. Many exciting events involving Nancy's mysteries occur during Nancy's visits at Aunt Eloise's apartment. 
After Nancy's mother passed away when Nancy was very young, she considering helping her brother to raise his daughter by moving in with them, but the private school she worked at needed her. When Carson and Nancy met Hannah Gruen, Eloise ultimately chose to stay in New York City. Eloise hosts Nancy and her friends often throughout the series. She is the one who introduces to Nancy the case that is the subject of The Mystery of the Fire Dragon, The Message in the Hollow Oak, and Secrets Can Kill.
Eloise Drew occasionally assists Nancy in her sleuthing, and loves her niece dearly.
Appearances
Original
Nancy's Mysterious Letter (revised)
The Message in the Hollow Oak (revised)
The Clue in the Old Album
The Clue of the Leaning Chimney
Mystery at the Ski Jump
The Ringmaster's Secret
The Scarlet Slipper Mystery (mentioned)
The Mystery of the Fire Dragon
The Moonstone Castle Mystery (mentioned)
The Clue of the Whistling Bagpipes
The Clue in the Crossword Chiper
The Secret of Mirror Bay
The Thirteenth Pearl (mentioned)
Digest
The Triple Hoax
The Secret of the Old Lace
The Twin Dilemma
The Bluebeard Room
The Sign of the Falcon
The Riddle of the Ruby Gazelle (mentioned)
Mystery at Moorsea Manor (mentioned)
The Clue on the Crystal Dove
Mystery of the Mother Wolf (mentioned)
Files
Deadly Intent
Stay Tuned for Danger
Island of Secrets
A Date with Deception
Portrait in Crime
Into Thin Air (mentioned)
Danger on Parade
Island of Secrets (mentioned)
Anything for Love (mentioned)