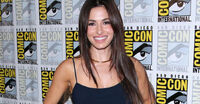 Sarah Shahi (born February 10, 1991) is an American television actress. She is Persian and Spanish. She rose to prominence with her roles in Fairly Legal and The L Word. She currently stars in Person of Interest.
Drew
Shahi is set to star in Drew, a contemporary take on the classic book series for CBS. Since ordering the pilot, the show's creators have said that they wanted to cast a diverse actress in the lead role.
Ad blocker interference detected!
Wikia is a free-to-use site that makes money from advertising. We have a modified experience for viewers using ad blockers

Wikia is not accessible if you've made further modifications. Remove the custom ad blocker rule(s) and the page will load as expected.