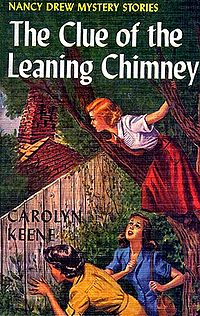 The Clue of the Leaning Chimney is the twenty-sixth volume in the Nancy Drew Mystery Stories series.
Plot summary
A rare and valuable Chinese vase is stolen from a pottery shop and the owner asks Nancy for help. During the investigation, Nancy searches for a leaning chimney, which leads her to missing pottery experts.
Ad blocker interference detected!
Wikia is a free-to-use site that makes money from advertising. We have a modified experience for viewers using ad blockers

Wikia is not accessible if you've made further modifications. Remove the custom ad blocker rule(s) and the page will load as expected.