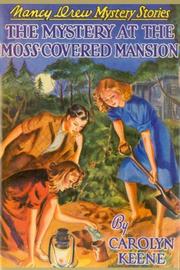 Mystery at the Moss-Covered Mansion (retitled Mystery of the Moss-Covered Mansion for the revision) is the eighteenth volume in the Nancy Drew Mystery Stories series.
Plot summary
1941
Nancy's father Carson Drew enlists her help in tracking down a missing heiress, and Nancy, Bess and George stumble upon a mysterious moss-covered mansion. They later hear that someone was murdered near the mansion and they hear strange noises coming from inside. The volume is 25 chapters in length, and includes a great deal of action, including a murder, gypsies, a missing heiress, a needy elderly lady, a reclusive artist, an airplane accident, and a forest fire.
1971
Now retitled "Mystery of the Moss-Covered Mansion," a friend of Nancy's father has been arrested and charged with sending a truck loaded with explosive oranges into the Space Center complex at Cape Kennedy. Knowing that he could not possibly be guilty of sabotage, Nancy and her father rush to the defense of the accused innocent man.
During the Drews' investigation, Nancy becomes suspicious of an old, spooky mansion. Behind a high mesh enclosure, wild African animals roam about the extensive grounds. Nancy discovers that something besides the training of wild animals is going on at the mysterious moss-covered mansion estate. Adult critics among collectors groups comment on strange elements of the revised story frequently, including explosive oranges, and a spy-thriller climax with Ned and Nancy trapped in the house, nearly dying before rescue.
Artwork
The original dust jacket was painted by Russell H. Tandy, and depicts Nancy, Bess, and George digging for buried money on the grounds of the title location. Tandy also illustrated a frontispiece; this volume is the first in the series to have only one illustration on plain paper; previously, glossy, highly detailed art was used. The cover, but not the interior illustration, was updated to the same scene, set in the 1960s, with Nancy, Bess and George, by Rudy Nappi. Nappi also illustrated the new volume's location with Nancy in the foreground stalked by a panther. An uncredited artist provided five internal line drawings and a frontispiece for the revised text.