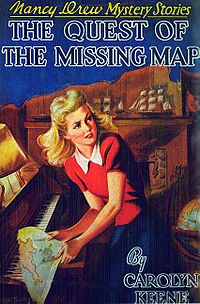 The Quest of the Missing Map is the nineteenth volume of the Nancy Drew Mystery Stories series.
Plot summary
Nancy investigates a small ship cottage at the Chatham estate and discovers a connection between the mysterious occurrences at the cottage and an island where a lost treasure is said to be buried. With one half of a map, Nancy sets out to find a missing twin brother who holds the other half. The mystery becomes dangerous when an assailant hears about the treasure and is determined to push Nancy off the trail.
Ad blocker interference detected!
Wikia is a free-to-use site that makes money from advertising. We have a modified experience for viewers using ad blockers

Wikia is not accessible if you've made further modifications. Remove the custom ad blocker rule(s) and the page will load as expected.