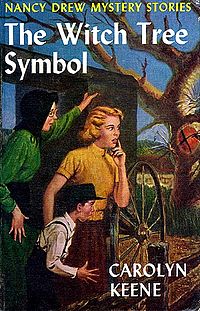 The Witch Tree Symbol is the thirty-third volume in the Nancy Drew Mystery Stories series.
Plot summary
When a neighbor asks Nancy to accompany her to an old uninhabited mansion, a new mystery opens up, and danger lurks on the second floor. Nancy finds a witch tree symbol that leads her to Pennsylvania Dutch country in pursuit of a cunning and ruthless thief.
The friendly welcome the young detective and her friends Bess and George receive from the Amish people soon changes to hostility when it is rumored that Nancy is a witch! Superstition helps her adversary in his attempt to get her off his trail, but Nancy does not give up. She persistently uncovers one clue after another.
Nancy's intelligence and sleuthing ability finally lead to the fascinating solution of this puzzling case.
Ad blocker interference detected!
Wikia is a free-to-use site that makes money from advertising. We have a modified experience for viewers using ad blockers

Wikia is not accessible if you've made further modifications. Remove the custom ad blocker rule(s) and the page will load as expected.